Dr. Ashwani Kumar
Senior Advocate, Supreme Court of India
Former Additional Solicitor General of India,
Member of Parliament (Rajya Sabha),
Union Minister for Law & Justice
Envoy of Prime Minister Manmohan Singh to Japan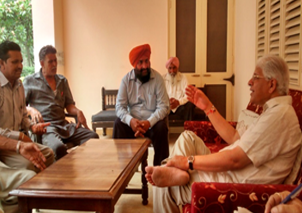 IN GURDASPUR
INITIATIVES UNDERTAKEN BY DR. KUMAR FOR GURDASPUR DISTRICT, PUNJAB
Dr. Kumar distributed MPLADS grants amounting to approximately Rs 2.5 crores in the period January, 2014 – August, 2014 to the villages in Gurdaspur and Pathankot districts for development activities.
Dr. Kumar identified FatehgarhChurian and Dinanangar (R) Assembly segments for development initiatives on a pilot basis under the Border Area Development Scheme. A team of Planning Commission officers have since visited the areas and have finalized development projects in consultation with stake holders to be implemented possibly within the year. Earlier, a similar project has since been implemented in the border and backward area of NarotJaimal Singh now in District Pathankot where a much needed bridge was constructed at a cost of about Rs. 1 crore to facilitate connectivity in this flood prone area.
Dr. Kumar sanctioned Rs 2.2. Crores out of his MPLADS fund for the construction of a modern Old Peoples' Home. Land for the projects has been provided by the State Government. The facility is managed by HELP Age India. The Home is a 50 bed facility for old and destitute people and has an Amphitheatre and medical facilities.
Dr. Kumar proposed for the setting up of a skill development facility in the district to ensure that jobless youth are enabled to seek gainful employment in the private enterprises in view of the expected expansion of the private sector in the border districts of Amristar and Gurdaspur following the opening up of trade with Pakistan through the Wagah check posts.
Dr. Kumar sanctioned over Rs. 10 lac from his MPLAD funds for lighting of Fish Park in Gurdaspur and for installing street lights in Prabodh Chandra Nagar.
Dr. Kumar approved development projects to the tune of Rs. 5 crore in the border areas of FatehgarhChurian, Dina Nagar and Derababa Nanak.
Dr. Kumar facilitated and initiated "Job Melas" at Gurdaspur and Dinanagar where over hundreds of job offers by prestigious companies were generated and many unemployed youth were given jobs.
Facilitated and initiated a "Women Empowerment Campaign" launched with the involvement of major banks led by the Punjab National Bank in the month of November 2007. Rural youth and women were given financial facilities worth crores under various schemes. Hundreds of new applications from the weaker sections for financial assistance/ empowerment have been processed.
As a result of Dr. Kumar's efforts, a mega camp for selection of beneficiaries under the Rural Employment Generation Programme of the Ministry of Small Scale Industries was organized at village Tarapur in Gurdaspur district. Loans amounting to several crores were sanctioned to the beneficiaries enabling self-employment of many rural youth in the district.
Dr. Kumar Persuaded CMC Ltd, a subsidiary of the TATA Group, to start an intensive training course to develop entrepreneurial skills among the unemployed youth of Gurdaspur. A sum of Rs. 10 lacs was sanctioned out of MPLAD funds for renovation and up gradation of the Government College building.
Dr. Kumar contributed towards the establishment of 6 centers in Gurdaspur district for training women in the art of handwork on leather sports goods etc. This would ensure upgradation of skills of women in the border district along with a monthly stipend of about Rs. 1000/- in addition to the possibility of gainful employment after training.
As a result of Dr. Kumar's efforts, Rs.80 crores was allocated for the revival of the industrial township of Batala to boost employment opportunities for youth in the border district. This amount is to be utilized under the Industrial Infrastructure Upgradation Scheme (IIUS).
As a result of Dr. Kumar's efforts, a new superfast day train from New Delhi to Pathankot, connecting for the first time the towns of Batala and Gurdaspur to New Delhi by a fast passenger day train has been started. This will boost the economy of the entire Majha belt i.e. districts of Gurdaspur, Tarn Taran and Amritsar.
As a result of Dr. Kumar's efforts, a world class Polytechnic / Vocational Training Centre at Gurdaspur is being established by the Ministry of Human Resources and Development at Gurdaspur.
As a result of Dr. Kumar's efforts, air service between Delhi and Pathankot was started in 2006-07. This has given a major boost to economic development of the district and also the adjoining states of Jammu & Kashmir and Himachal Pradesh.
Dr. Kumar facilitated the selection of ITI Gurdaspur as one of the two ITI's in Punjab selected as a "Centre of Excellence" under the Government of India Scheme.
Dr. Kumar ensured that farmers in the border districts of Punjab got access to thousands of acres of their land falling on the other side of fencing on the India-Pakistan border. This was done to enable the farmers to cultivate their agricultural land. Farmers of border districts of Gurdaspur, Amritsar, Tarn Taran and Ferozpur have been benefited by this decision.
Dr. Kumar facilitated the establishment of Government of India sponsored Centre for Vocational Training in Gurdaspur.
Book By Dr. Kumar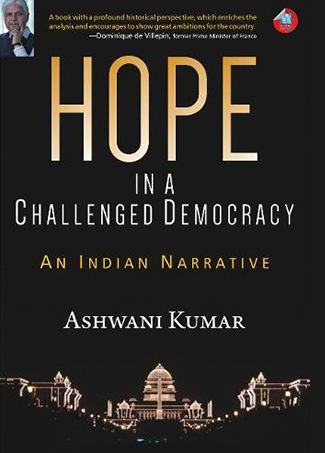 Photo Gallery