Dr. Ashwani Kumar
Senior Advocate, Supreme Court of India
Former Additional Solicitor General of India,
Member of Parliament (Rajya Sabha),
Union Minister for Law & Justice
Envoy of Prime Minister Manmohan Singh to Japan
Ehsas -O - Izhar Vol I (2018)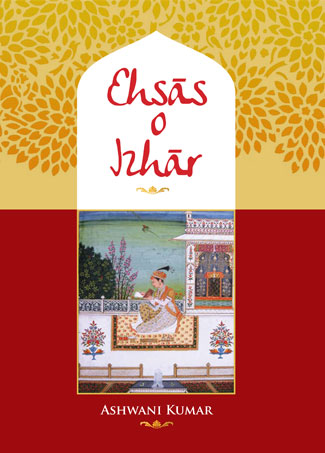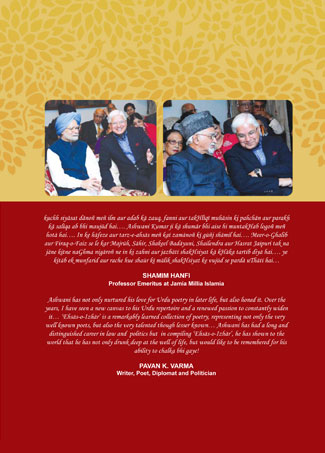 Dr. Ashwani Kumar, an eminent lawyer, author and veteran parliamentarian was a member of the Rajya Sabha for fourteen consecutive years representing the State of Punjab, until his retirement in April 2016. During this time, he held various ministerial positions including as Union Minister for Law and Justice , Special Envoy of PM Manmohan Singh to Japan in 2013 and chaired several important Parliamentary Committees. Dr. Kumar represented the Indian government at the highest forums of global diplomacy including in the United Nations General Assembly (UNGA) and the World Economic Forum.
He is a senior advocate at the Supreme Court, a former Additional Solicitor General of India widely recognised for his eloquence as a spokesperson of the Congress party and for the intellectual depth of his writings. In 2005 he was honoured with Honoris Causa in Law by the Punjab University, was a visiting Distinguished Fellow at the Trinity College, Dublin (2016) and has spoken at the Oxford Human Rights Hub, The Fletcher School of Law & Diplomacy, University of Birmingham and Kings College, London amongst others. His publications include "Laws, Ideas & Ideology in Politics: Perspective of an Activist" and "Hope in a Challenged Democracy: An Indian Narrative" (2017).
He is a connoisseur of Urdu poetry. His latest 'Ehsās-o-Izhār', is an anthology of some of the finest pieces in Urdu verse which reflect his own sensitivity and discloses the lesser known side of his multifaceted personality.
Book Launch
The book was launched in New Delhi on April 2, 2018, by Dr. Manmohan Singh, Former-Prime Minister of India. The function was presided over by Shri Hamid Ansari, Former-Vice President of India, as the Chief Guest. Shri T.S. Thakur former Chief Justice of India and Prof. Emeritus Shamim Hanfi, along with Javed Akhtar and Pavan Varma were the Special Guests. The event was attended by eminent personalities from different walks of life.
Endorsements
"kuchh siyāsat dānoñ meñ ilm aur adab kā zauq, fanni aur takHlīqī muhāsin ki pahchān aur parakh kā salīqa ab bhi maujūd hai…. Ashwani Kumar ji kā shumār bhi aise hi muntakHab logoñ meñ hotā hai…. In ke hāfeze aur tarz-e-ahsās meñ kaī zamānoñ kī gūñj shāmil hai…. Meer-o-Ghalib aur Firaq-o-Faiz se le kar Majrūh, Sāhir , Shakeel Badāyuni , Shailendra aur Hasrat Jaipuri tak na jāne kitne naGhma nigāroñ ne in ki zahni aur jazbātī shakHsiyat kā kHāka tartīb diyā hai…. ye kitāb ek munfarid aur rache hue shaūr kī mālik shakHsiyat ke vujūd se pardā uThātī hai."
SHAMIM HANFI
PROFESSOR EMERITUS AT JAMIA MILLIA ISLAMIA
"Ashwani has not only nurtured his love for Urdu poetry in later life, but also honed it.. Over the years, I have seen a new canvas to his Urdu repertoire, and a renewed passion to constantly widen it… 'Ahsās-o-Izhār' a remarkably learned collection of poetry, representing not only the very well- known poets, but also the very talented but lesser known… Ashwani has had a long and distinguished career in law and politics, but in compiling 'Ahsās-o-Izhār', he has shown to the world that he has not only drunk deep at the well of life, but would like to be remembered for his ability to chalka bhi gaye!"
PAVAN K. VARMA
WRITER, POET, DIPLOMAT & POLITICIAN